Using the right tools for the job?
Each roofing system requires highly specialized tools. Some of which are very expensive and require daily calibration. Using the right tools for the job is never more important than when protecting the integrity of your building. Unfortunately many roofers make this mistake damaging or even destroying the product being installed.
Leister Automatic Welder for TPO and PVC Roof Systems
Using the new VARIMAT V2, polymer roofing membranes can be welded more rapidly resulting in lower cost. Users appreciate its streamlined ergonomics and its ease of use. The clearly laid out operating unit's "e-drive" allows for the control of all relevant welding parameters.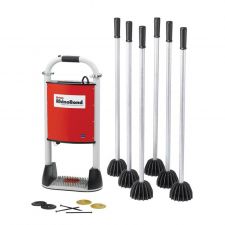 Advanced attachment of TPO and PVC Roof Systems
OMG RhinoBond is a superior attachment system for TPO and PVC membranes based on patented electromagnetic induction welding technology. The system uses the same fastener and plate to secure both the insulation and the membrane to the deck without penetrating the roofing material. The result is a Factory Mutual-approved system that does not create any point of entry for moisture, requires fewer fasteners and provides superior wind uplift performance.
Winco's Big Dog Portable Generator
Professional tools require professional power. With the Winco WL12000HE you can guarantee no power dips ensuring all welds stay consistent. That's why it's the preferred portable generator in the flat top roofing industry. It is durable enough to handle the hours while providing clean power for sensitive equipment.